BESTeam Weekly Feature:
Yankee Burrow Creations
This amazing Etsy shop is run by the mother and daughter team of Debbi and Amanda. This charming little store features lot of hand made items that are obviously crafted with a lot of love and care. Here's a little bit of info on their shop and why they do what they do:
Q. What originally inspired you to begin selling online in your Etsy shop?
A.
We started selling online as a way to stay connected when Amanda moved with her family to Kansas a few years ago. Then she moved back home, yea!!!! We decided recently to rebrand and update our online presence and treat this as a "real" job...so we made our blog, our website, and expanded our items to 3 different selling venues. So now Etsy carries our yarn/fashion items,

Handmadeartist.com

sells our home decor items, and I just started our shop on zibbet for our jewelry pieces. All three shops are (or will be when I add Zibbet) can be found in the tabs of our blog.
Q. Do you have any items that seem to be "customer favorites"?
A.
Amanda's stuffed animals and pin cushions did not last long at all. But like any artists with ADD, we tend to not remake, or relist, the same items, so it's hard to find a customer favorite.
Q. What is YOUR favorite item in your store right now?
A.
I would have to say that right now, our favorite item is the wedding shadow box. It is a great memory from Amanda's wedding on the beach!
Below are some beautiful items from their store.
Follow them on Twitter:
http://www.twitter.com/yankeeburrow
Here's their Facebook Page:
http://www.facebook.com/yankeeburrowcreations
And their wonderful Blog:
http://www.yankeeburrowcreations.com/
Light Green Crochet Summer Top
http://www.etsy.com/listing/97187707/light-green-crochet-summer-top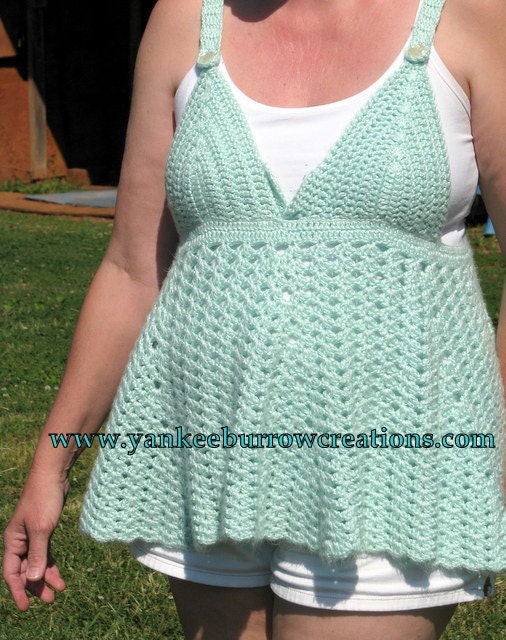 Bridal Shadow Box (BEAUTIFUL!)
http://www.etsy.com/listing/41642748/bridal-shadow-box-special-orders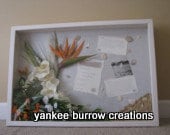 Red Sparkle Ribbon Knit Scarf (my favorite)
http://www.etsy.com/listing/90519017/red-sparkle-ribbon-knit-scarf